Golf Tour
The best time for golf tours are from October to May. The first golf course in Myanmar is located in Thayet which is situated about 225 miles from Yangon. Thayet Century Golf Club was established by British in 1887. The member of Thayet Golf club is affiliated to Royal St. Andrews Golf Club (Scotland) as an honorary guest.

Today there are about 70 golf courses all over the country.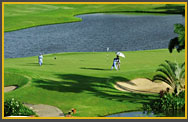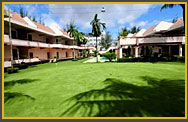 Golf Courses in Myanmar
YANGON

Yangon Golf Club
One of Myanmar's oldest golf courses and which was built in 1909 during the British colonial era. The course has hosted such great players as Gene Sarazen and Walter Hagen in its early years and was also the venue for the first-ever Myanmar open in 1996. This par 72 course has a Yardage of 7010 and is a great place to tee off.

Pan Hlaing Golf Resort
Finest golf course in Myanmar designed by Gary Player, established in 2000. This course operates superbly maintained 18 hole and its greens are the best in Myanmar. One can enjoy the sunset & beauty of Yangon from the other bank of the Hlaing River.

Yangon City Golf Resort
With two 18-hole-championship courses designed by Chan Han. The old course is built in 1994 and the Silver course was built in 1996.The Pondi course is a tight course requiring accuracy whereas the Silvery course is more open and suited to players of all abilities.

BAGO

Hanthawaddy Golf Resort
This 18 hole course is one of the best and most challenging courses in Myanmar. Nikko Shoji Company of Japan established Hanthawaddy golf & Country club in 1996. This course has a challenging per 72 with 6955 yards.

BAGAN

Bagan Golf Resort
It is a beautiful golf course with 18 holes surrounded by world-famous Bagan temples and ancient Pagodas of 11 century and the Ayeyarwaddy river stretching out beyond. It was opened in 1999.

MANDALAY

Yedaguntaung Golf Club
With 18 holes established in 1996 and designed by Mandalay City Development Committee. It was built in the valley of the Northern hills is a challenge of your talent of sport.

TAUNGGYI

Ayethaya Golf Resort
With 18 holes established in 1995 and is located at the foot of Taunggyi Hill. This course has a challenging per 72 with 7380 yards.