Inle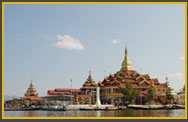 Inle is a vast lake located in the heart of the Shan State which shares borders with Thailand and Laos. It climbs up to over 900 meters above sea level and it is outrageously beautiful. Inle Lake is located in the mountains so it is cooler than other areas. More than 30 hill tribes are living in the mountains.
Phaungdawoo Pagoda is an amazing floating pagoda in the Inle Lake. The Phaungdawoo Pagoda festival and the boat racing competition are great experiences for the tourists that come to visit the region. The floating markets and the lifestyles of the Inthars are also a total different environment for visitors.
Nyaung Shwe has the main harbor to Inle Lake. Taunggyi hot air balloons festival is another interesting event of Myanmar. Pindaya Caves has great Buddha Images in different sizes. Kakku Pagodas are still the untouched architectures of the ancient times. Hopong and Kalaw are the other cities to visit nearby.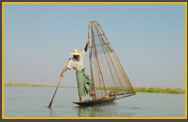 Many international standard hotels are available. There are also some reasonable places for budget-limited travellers. The Shan food is a favourite dish in Myanmar and one can get to eat the delicious food in Inle Lake. Handicraft, souvenirs and Shan dresses are also available for you to take back home.